Whether you are attending an event, joining a student organization, educating yourself, or applying for funding, we invite you to participate in Earth Month to celebrate the university's steps to achieve its sustainability goals. Earth Month is just one of many initiatives to support Assignment: Earth, USC's commitment to addressing the impacts of climate change and creating a more sustainable future.
---
Take Action
image of earth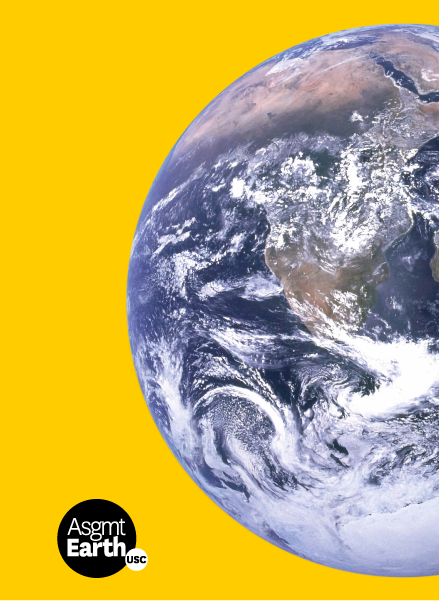 Hear from the Chief Sustainability Officer
Mick Dalrymple highlights Earth Month festivities and more.
image of earth
student-training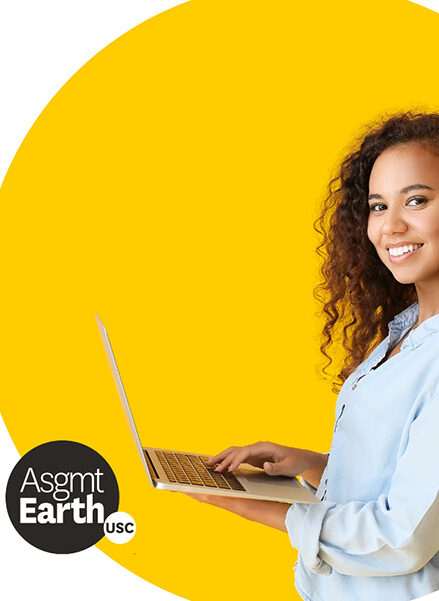 Take the Student Sustainability Training
Explore the steps USC is taking towards becoming a greener campus and learn what you can do.
student-training
usc-sustainability-hub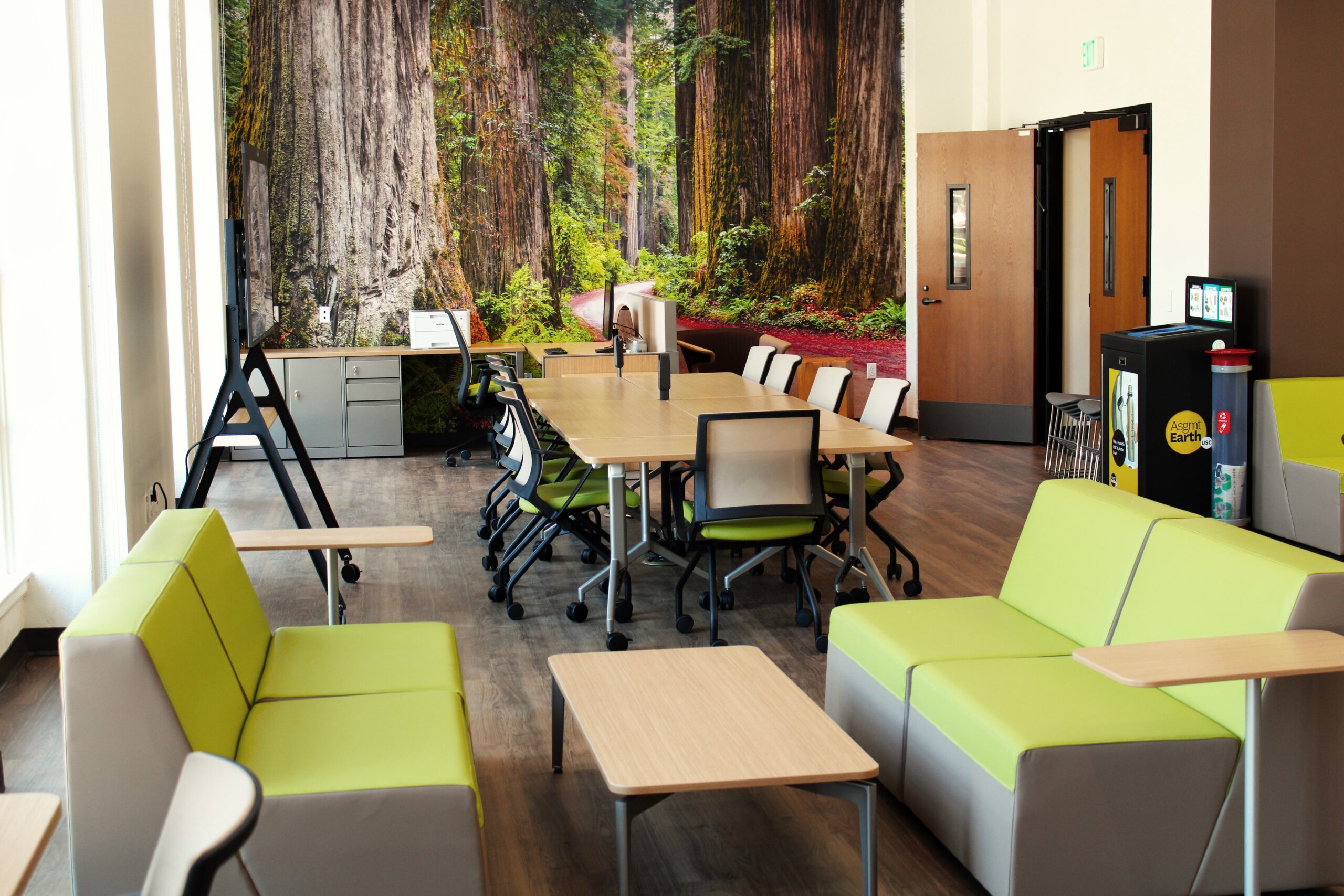 Visit the USC Sustainability Hub
The Hub is a multi-use gathering space for the USC community to collaborate around sustainability challenges.
usc-sustainability-hub
---
Attend an Event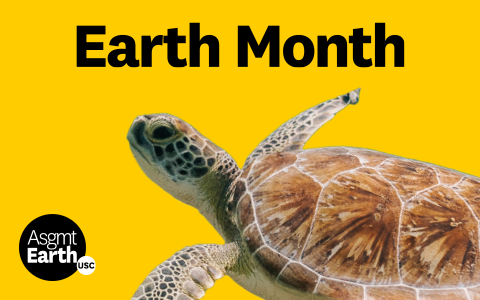 Earth Month Events: Coming Soon
Stay tuned for the latest information on Earth Month 2024.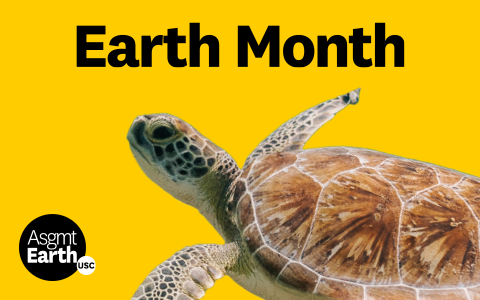 Earth Month Events: Coming Soon
Stay tuned for the latest information on Earth Month 2024.
---
Plan An Event
Community Conversations
Trivia Games
Lunch & Learn
Networking Opportunities with alumni, professors, professionals
Wellness Workshops
Submit each event to calendar.usc.edu
USC Calendar How to (visual guide)
To Add Events to the USC Calendar

Navigate to calendar.usc.edu.
Click on "Submit Event" in the top right of the page.
Login with USC credentials and follow the form prompts.
Event Type: select "Sustainability"
Department field: select your department
Tag Field (for calendar admins): add "Sustainability"
Each event is reviewed and approved before it appears on the calendar.

Recognized Student Organizations & Student Affairs Departments should also submit events to EngageSC.
Marketing Materials:

Add the Assignment: Earth logo to your graphics.
If in person events are allowed, remember to reserve space with the appropriate department. Each department will provide information about capacities, protocols, etc as it becomes available.
Trojan Event Services manages space reservations for TCC, Bovard Auditorium, Ground Zero, Tommy's Place and most outdoor spaces. For spaces not managed by Trojan Events, contact the respective academic unit in which that space resides.
Ensuring all participants can fully access your events is crucial to ensuring an equitable experience for all.
USC's Disability Services and Programs office has created helpful guides to help you create accessible content and host accessible programs.
Event planners should include in their materials the following event accessibility statement:

"Individuals with disabilities who need accommodations to attend this event may contact [insert event sponsor's name, phone, and email address]. It is requested that individuals requiring accommodations or auxiliary aids such as sign language interpreters and alternative format materials notify us at least 7 days prior to the event. Every reasonable effort will be made to provide reasonable accommodations in an effective and timely manner."
USC Single Use Plastic Bottle Policy toolkit has a vendor compliance checklist, visual aids, and a contact for additional assistance.
For catering or other event needs, consider supporting diverse and local small businesses at Trojan Shop Local.
The USC FPM Events checklist. See pages 7-8 for pre- and post-event steps you'll need to take to ensure that your event is zero-waste. You also can reach out to USC's Waste Diversion Supervisor at gwhisena@usc.edu for general support.
Prioritize using reusable service ware – provide communal beverage dispensers with reusable cups.
If reusables will not work for your event, compostables and products made from more sustainable materials such as aluminum or glass are the next best alternative. Note: Products in cartons – such as boxed water – have a plastic lining that renders them un-recyclable, which means they go to landfill.
Ask guests to bring refillable water bottles and share the map of campus hydration stations
Prioritize plant-forward menu choices over meat-based meals, and when appropriate, encourage guests and colleagues to take surplus food so it doesn't get thrown away.
Finally, please ask your event attendees who are USC faculty, student, and staff to take the the annual USC Sustainability Survey. It gauges sustainability literacy, culture, and behavior, takes less than 15 minutes to complete.