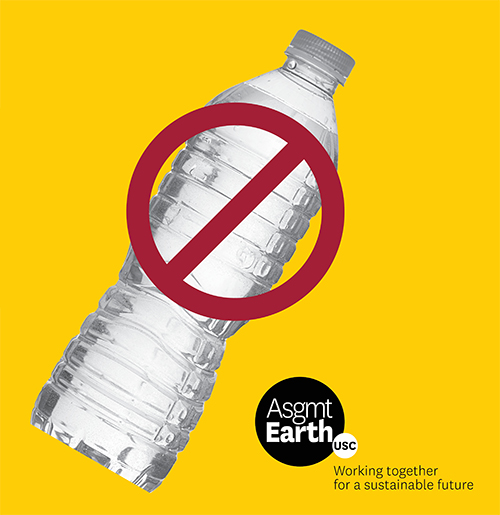 Bye-bye Plastic Bottles!
A USC policy eliminates the purchase of single-use plastic beverage bottles for all on-campus and off-campus operations and events.
You can help the University community by taking action in your office, in your purchases, and while at cafeterias and events on campus.
---
Tools
Get Visual Aids
PowerPoint slides provide a clear overview of the elimination process.
Read the Policy
USC adopted an official plastic bottle elimination policy.
Vendor Checklist
Help your vendors/caterers choose suitable alternatives.
Look Out for Plastics
If you see single-use plastic bottles that don't belong, let us know.
Make the Transition
Need help developing a transition plan for eliminating plastic bottle use?
Find Hydration Stations
This interactive map can help you to find stations to fill your reusable water bottle on campus.
---
Helpful Tips
How you can move away from single-use plastic beverage bottles
Evaluate
Examine previous purchases.
Review anticipated purchases.
What is your current single-use plastic beverage bottle inventory?
Identify alternative product(s) that can substitute for plastic beverage bottles:

Can your current product be replaced with reusable containers?
Can your current product be eliminated by switching to communal alternatives (beverage dispensers, hydration stations, five-gallon water dispensers)?
Use Alternatives
Individual reusable containers or communal beverage dispensers with reusable cups.
If reusables will not work for your situation, products made from more sustainable materials such as aluminum or glass are the next best alternative.
Important note: Products in cartons – such as boxed water – have a plastic lining that renders them un-recyclable, which means they go to landfill.
Need Help?
Have a question, comment, or need advice on the plastic elimination policy? We can help.